PROJECT DETAILS
Funding Scheme CSA – Coordination and support action
Call for Proposal H2020-ICT-2015
Partner Country BE IT UK
Duration 2016-2018
Site  i3project.eu
The I3 Impact Innovation Invest is a 30 months CSA that addresses the topic ICT 19 -2015 Technologies for creative industries topic c) Coordination and Support Actions on Convergence and Social Media. I3 will support research results from lab to market making innovation happen. I3 will promote a closer relation between researchers and entrepreneur providing mentorship and tutorship support to researchers and providing access to business angels and investors. The objective is to identify the emerging promising solutions and their feasibility in the Convergence and social media sector within the European research ecosystem. I3 aims to connect them with investors, corporates, institutions and media and with Startup Europe Initiative, in order to help them in accessing the market through selected events and exploitation activities.
The Living Lab approach will be used to allow business ideas and new technologies to be validated by different users and communities. I3 will implement a systematic review and analysis of policies by applying methods that can be effectively used to address domain topics covered by the specific ICT19 theme. A policy dialogue will be launched to identify areas that need further exploration in order to foster consensus and bring together key stakeholders in the public and private sectors, civil society, academia and the media to discuss key issues. The multi-directional dialogue will be facilitated through a forum addressing issues such as strategic coordination for the development of new research agenda, issues related to the regulatory framework, the coordination of convergence and social media policies.
I3 will be dedicated to increase the projects outreach and impact bridging the gap between the technologies developed and the access to the market, increasing cooperation within the convergence social media ecosystem and liaising with related Innovation and R&D programmes both at the European, international and national levels.
I3 methodology follows a quantitative impact assessment approach and is based on the principles of cost-benefit analysis and multi-criteria analysis. The I3 methodology is also based on the European Commission's Innovation Radar. The methodology also includes the Business Model Canvas approach that is implemented in a multi-criteria analysis, primarily to create the economic evaluation section. This approach allows one to examine the "building blocks" (customers, proposed value, resources, processes, business plan) of a sustainable business model.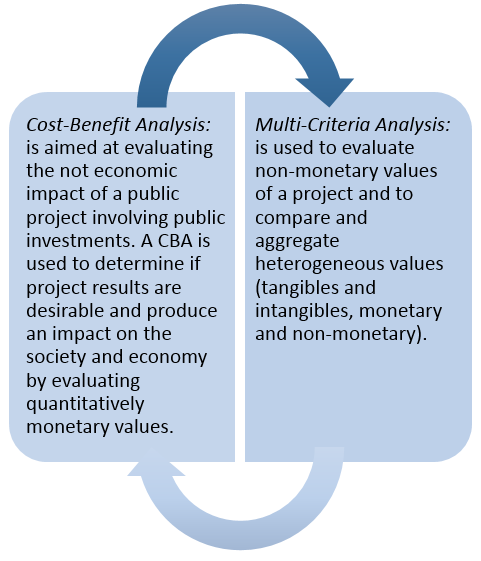 By combining these aspects, I3 will be used to analyse ICT-19 projects and the Convergence and Social Media domains on an aggregate level using three synthetic indices: social impact, economic impact, and impact on innovation.